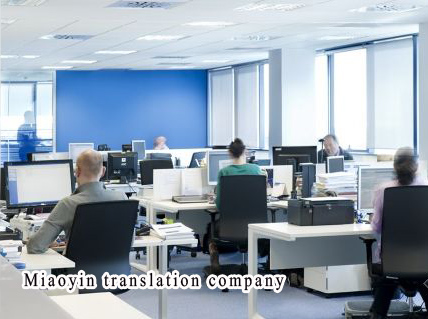 Shanghai Miaoyin Translation Service Co., Ltd. now has a nationally recognized talented team composed of more than 30 senior professional interpreters and over 80 part-time ones, not only being proficient in interpretation and translation cocerning English, Japanese, German, French, Korean and other languages , but also providing patient, meticulous, thoughtful and humanized services according to the needs of different customers. Among them, some senior professional interpreters have ever studied overseas. The company always adhering to the "talent-oriented" concept, has constantly attracted talented people to join it and paid attention to train staffs thus improve their work abilities.
In line with the guiding ideology of "customer first, quality first, honesty and trustworthiness, excellence ", the company monitors all aspects of translation services with scientific management mode and strict quality control system. Translation services the Company provides are managed by special personnels from the receipt of manuscripts, signing of entrustment orders, project analysis, beginning of translation, proof after completion of draft translation and submission of translation .In addition, interpretation sevices offered by the Company are also monitored from contract signing, interpreter selection, interpreter assignment, real-time feedback on interpreter performance and customer satisfaction surveys.
The company can translate multilingual and multi-category materials, proficient in: electronics, communications, machinery, chemical, biological, biochemical, pharmaceutical, computer, paper, textile, aviation, food, automobile, water conservancy, metallurgy, hydropower, environmental protection, construction, energy and almost all the other technical fields, owning the rich translation experience, especially in English, Japanese, German and French etc. At present, the team has provided translation services for thousands of Chinese and foreign enterprises and institutions in more than 60 countries, and has won the trust and praise of customers at home and abroad with high translation level and excellent service for many years. Since the establishment of the company, we have always regarded honesty, professionalism and perfection as the working principles of our translation and seen promoting the healthy development of Chinese translation as our mission. We are deeply aware that every translation material represents the image of the company, customers, and also China to the outside world. Therefore, it is rigorous, realistic, and excellent for us to provide customers with perfect translation, as well as for the exchange between China and the world to make a modest contribution.
According to the needs of the market, in order to let you deal with the fierce market competition, we have also specially set up emergency project department to handle all kinds of business contracts, patent applications, articles of association, joint venture agreement, production line installation and commissioning instructions and other urgent projects so as to complete your emergency commission in the shortest time thus ensuring that you always step forward in the market! With the development of Chinese science and technology, the international economic status is increasing, and cross-language exchanges are becoming more and more frequent. You can concentrate your efforts on your exclusive domain and hand over the language issues to us so as to win more business opportunities.
为什么要选择我们?

公司创立时间长,翻译经验丰富。
译文质量一直受到好评,从未出过差错。
服务收费低,比其他公司低60%以上。
服务周到,按时完成客户的翻译任务。
完全按照客户的要求的文件格式交稿。
口译任务按时到达地点,不迟到,不冷场。